It is a laundromat shared by tenants of one building or another residential building. Why is this trend surely entering the European market? It is an excellent solution in many situations, and these are just some of them.
Residential buildings
A shared laundry room is a perfect choice for smaller housing units, such as studio apartments. In this case, household washing machines and dryers take up a lot of valuable space, so shared laundries are the best possible choice.
Student dormitories
The situation is similar with student dormitories.  Smaller, shared areas for washing and drying clothes are an ideal solution for units where there is simply no additional space for washing and drying equipment.
Ex hotels facilities
Hotels facilities that have been converted into condominiums for workers or students will also be doing the right thing by choosing multi-house laundromats. Simple, practical, and profitable.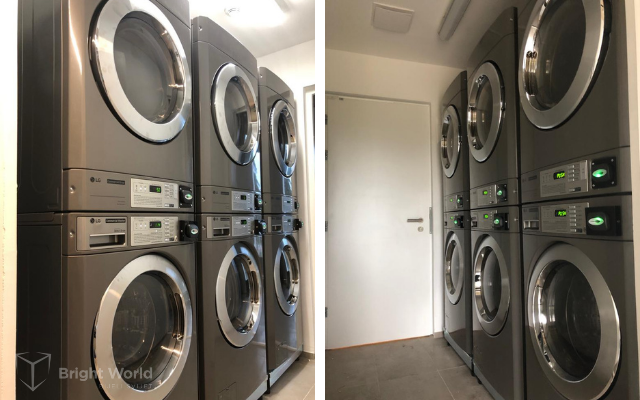 Business premises
Owners of business premises in residential buildings can also rent space for laundromats to other entrepreneurs or so-called "laundry route operators". Thus, they shift the responsibility and costs for maintaining the equipment and share part of the laundry's income with them.
If you are looking for an affordable and functional solution in which neither the washing machine nor the dryer takes up space in the apartments and is intended for all tenants, a shared self-service laundromat is exactly what you need. LG professional washing machines and clothes dryers will adapt perfectly due to their flexible design. Placing the dryer above the washing machine in a column, connecting it to single-phase electricity, an extremely quiet operation that doesn't disturb the tenants makes LG professional products a perfect fit for self-service laundries.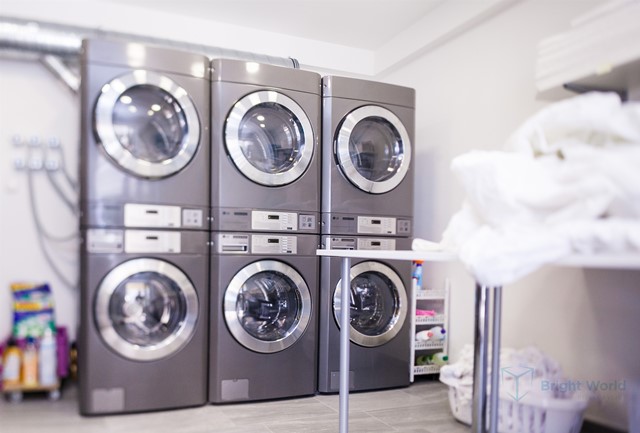 Another great advantage of these devices is that they are as easy to use as household washing machines, but they far surpass them in terms of performance.
The speed should not be neglected either: The longest program is even two to three times faster than the household one, which means that 10 kilograms of cotton laundry can be washed in just an hour and a half. The drying time for the same amount of laundry is only one hour. If we add to that that a professional washing machine can wash up to 8 hours every day (which is 60 kilograms of laundry per day), profitability and savings are always on the side of professional devices.
And the last, but not the least important item is hygiene.
Since the devices will be used by a larger number of people, cleanliness and disinfection are one of the imperatives.
That is why a quick Clean Tub Cycle before use and add-ons such as an ozone generator that disinfects the drum with every wash, provide complete safety and superior hygiene to every user.
With Bright World, you get savings, flexibility, and top LG professional devices. If you need a multi-house laundry, contact us - you are in experienced hands.