The beginning of June brought a great new recognition for our team.
LG Electronics granted Bright World the award of excellence, which is assigned for long-term partnership and successful business in the Eastern European market since 2010. We were also awarded the new certificate for authorized distributor in the Eastern European market.
The award and the certificate came as a great recognition for our work. During the last 13 years, we opened 20 European markets from Estonia to Greece and more than 1000 different projects with LG professional equipment.
Succesful long-term partnership
We started a strategic partnership with a leading global manufacturer LG Electronics in 2010, as one of the first distributors in the professional laundry equipment segment in the world.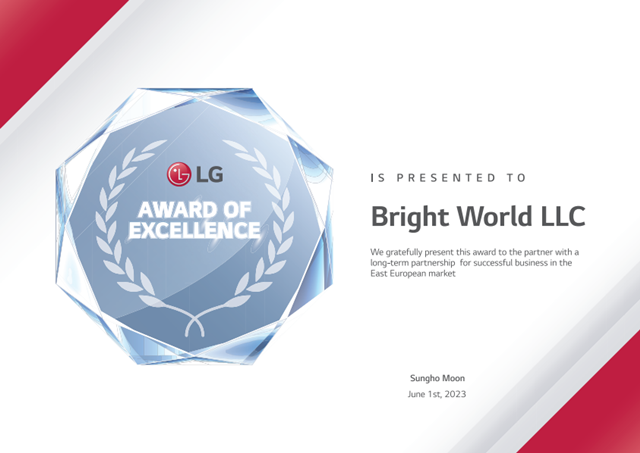 award pdf screenshot
Bright World, as a logistic center for Central and Eastern Europe, helps this technological giant place its professional washers and dryers from the Asian to the European market.
But the story doesn't end with the product's delivery to European ground. Bright World offers full-service, like adjusting original products for specific market needs, technological projects, education, technical service and customer support.
McDonald's, Hilton, Kempinski, Falkensteiner, Radisson and Park Plaza are some of the many world-renowned clients on our reference list. There are also companies like Valamar, Plava Laguna, Aminess, Maistra, Bluesun, etc
Inspiration for further success
We plan on continuing this successful business model, including continuous innovations, which are the key to the laundry business future.
We truly believe a united and highly motivated team can achieve great things and awards like these always come as confirmation of efforts and inspiration for further success.