Our dearest ladies, we wish you a happy International Women's Day! Our special congrats go to you from the female part of our Bright World team!
On this historical day, we want to celebrate our dear femmepreneurs and thank them for giving us their trust in their business ventures. We are bringing you their inspirational stories!
Jelena Jocović, LG Laundry Lounge Podgorica 
When we're talking about pioneers in LG Laundry Lounge self-service launderettes business, we are talking about Jelena Jocović!
Six years ago, an incredibly special story started in Podgorica - the third LG Laundry Lounge in the world has opened there. After years of excellent results, Jelena has golden advice for anyone who wants to try their hand at this business.
"You must be clear about what you really want. Focus on yourself, your team, and a good partner like Bright World. Stay positive and enthusiastic, and don't be afraid of challenges and obstacles. This is a business that doesn't give grand results overnight, but it does give great long-term results!"
Ines Logožar, Vuglec Breg
We are always inspired by the restless entrepreneur Ines Logožar, who opened a contemporary laundry for a traditional restaurant and rooms in Zagorje.
"I've realized that during the tourist season bills for external laundry services for our tourist village needs were pretty high. And then it occurred to me - I could do it!"
"I'm not just a boss, I do everything. I've got my own toolbox and I don't mind doing the work. I'm interested in everything – from the smallest screw to the filter. I'm so glad I got to fulfill my business dream. This way I can organize the work and time the way I like and that is a huge plus."
Emica Šimičić, Mirišljava Mande
With the help of our team, Emica Šimičić opened her own laundry Mirišljava Mande on the Island of Rab.
"I've recognized the market opportunity and decided to take it. I really love my job and what I like the most about it is the dynamic – every day is a new challenge, new school, simply put – it's never boring! Of course, for success in this business you need a lot of physical and mental strength, a lot of hard work and patience, but if you love what you do – you can achieve anything!
Ester Barković, Ananke
Ester Barković, an owner of the rental agency Rent Angels in the city of Rijeka, opened her laundry named Ananke two years ago. After only a month, the business was booming.
"In the 8th year of successfully running my rental agency, I decided to expand my business and offer the clients an additional service. With the help of Bright World I've opened my own laundry and after only one month, it was a huge 'boom', without any promotion!"
Valentina Nižić, Koltrina
Popular tourist destinations and laundries go hand in hand. This is exactly what Valentina Nižić had in mind when she was starting successful OPL laundry named Koltrina in the city of Zadar with the help of our team.
"I was working in the textile industry, but I wasn't happy. I wanted to be my own boss. My advice to beginners in this business would definitely be to hire a team of experts, that will help them in the process from idea to realization, but also later, through the aftersales support. That's exactly what I attribute the success of my business to."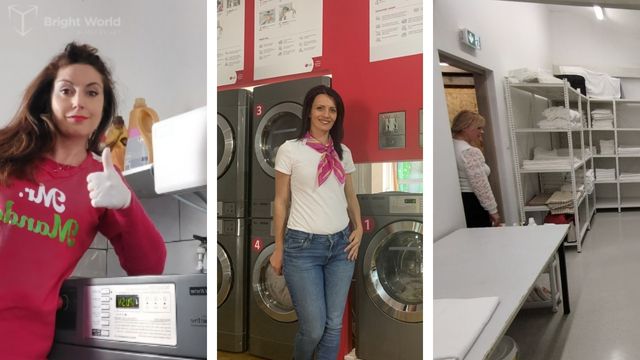 Dreams don't have to stay only – dreams! Our dear femmepreneurs are the best proof that with the will, effort and expert team support, you can achieve anything. The laundry business has many advantages and being your own boss is only one of them so – contact us!