Dubrovnik is known as one of the most popular tourist destinations, not only in Croatia but in the entire world. So, it doesn't come as a surprise that demand for laundry services is exceptionally high. This is what Katarina Arkulin and Ivica Tukarić had in mind when they got the idea of opening something very new in this city – the first laundry which offers suits wet-cleaning as an alternative to classical procedures, named ITEX.
A wealth of experience and ideas
"Dubrovnik is a tourist city, a number of small apartments, restaurants, etc is growing every day and demand for this business is high. Only a very small number of local renters does the laundry at home. Because of the hectic pace during the tourist season, people don't have time and they carry everything to the laundries" says Mrs. Katarina.
Katarina and Ivica are not the beginners in this business. They gained a prior experience through five years of their commercial laundry's work. But even prior to that, Mrs. Katarina has already been in everyday contact with laundry equipment.
"I was always familiar with laundries. I work in tourism and hospitality for more than 30 years. I am one of the managers in a big hotel chain and, working in hotel housekeeping management, I was always in contact with laundry equipment. I've also seen many situations where the guests were unhappy with their expensive dress or suit being destroyed because of an aggressive chemical treatment. You just can't treat these fine clothes in that way indefinitely" says Mrs. Katarina.
According to recommendation of the colleagues who dealt with equipping hotel's laundries, I contacted your Bright World and got different materials to get informed about the offer. Among these materials, I saw the lagoon® Advanced Care brochure and wondered 'What's this about?' For us in the city of Dubrovnik this was completely new" she recalls.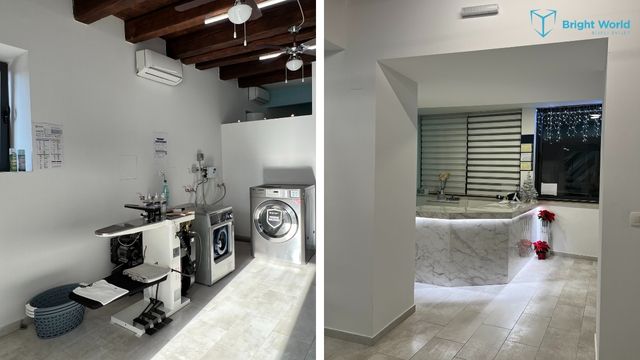 An innovative solution for professional fabric care
"I started my research and realized this is a modern, innovative solution that has become a standard in many prosperous countries. I liked this story from the start, and it turned out that my intuition didn't get me wrong" reveals Mrs. Katarina.
The best way to quickly explain lagoon® system would be – fast, easy, and green! Developed for more than 20 years, lagoon® Advanced Care is the first wet-cleaning system that enables dry laundry to be dry and clean again within only an hour. It is suitable, not only for sensitive clothes and fabric, but also for leather and shoes.
Cleaning using the system refreshes and renews all types of fabrics. Silk, wool, viscose, cashmere, sequins, embroidered motives, … With lagoon® Advanced Care cleaning possibilities have no limits.
"There are two dry cleaning stores in Dubrovnik, the owners are in this business for many years, and they have a huge experience, but when we're talking about technology - lagoon® is a game-changer. Even prior to starting our laundry, care for the environment has been something that I was passionate about. The entire world is going in the direction of ecology and sustainability" says Mrs. Katarina and adds:
"lagoon® Advanced Care programmes are quick, and equipment is simple to use. It's important to carefully follow directions because everything is just as it says."
Devices and equipment that Katarina and Ivica opted for include:
industrial washing machine lagoon® 6 kg or 4 kg of wet cleaning
automatic dosing pumps – EDS set Venturi
industrial dryer lagoon® 7 kg (electric)
pre-spotting table lagoon®
lagoon® ironing table with boiler
lagoon® detergents 
Smart detergents in the lead role
"In my experience, original Electrolux Professional detergents are the most important here. I even began to think – 'Is this washer taking the detergent at all, the level seemed the same to me for days?' We're all taught to put more powder detergent to wash it better. But everything was just fine" laughs Mrs. Katarina talking about the longevity and long-term cost-effectiveness of specific detergents.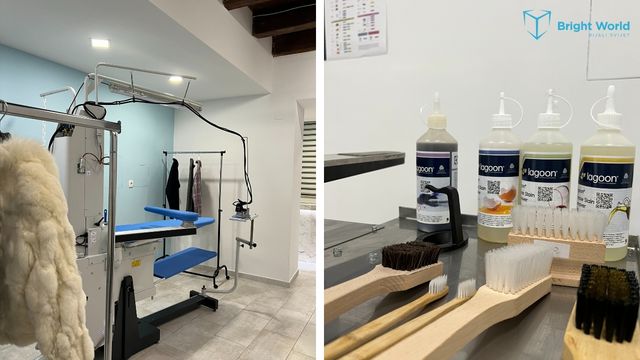 The ecological factor is also very important here. Electrolux Professional detergents are quality and efficient and have low environmental impact in comparison to standard products on the market.
"I don't want to even think about how many harmful chemicals is poured into sea in Dubrovnik during the tourist season. The circulation of guests is huge, there's a lot of cleaning and washing and citizens don't have future in their minds. Many care only about the profit. That's why I'm very proud of our way of working!" points out Mrs. Katarina.
With quality support to success
When we're talking about challenges on the way to success, Mrs. Katarina recalls:
"Ivica was a bit sceptical about how we are going to find an adequate laundry space in this city. More so, he thought it was going to be impossible to find a space that will look just as I imagined. But I always say - he who seeks finds! We found a space that looked just like it was made for us.
Also, ironing wasn't simple in the beginning, but it's not about the equipment – it's all about practice. When you have someone who will show you the technique, you become skilled pretty fast. That's why I'm glad we're in this story with Bright World and we can always count on the support. I would recommend Bright World to everyone who's thinking about starting this business and I've already successfully hooked up two of my colleagues with you."
"I would also recommend lagoon® Advanced Care to everyone! We are very satisfied, and the clients' reactions are also great. They consider this to be an amazing story, something new and modern that the city of Dubrovnik was missing. They often say - 'This smells amazing, it's completely different in comparison to standard dry cleaning, you can sense there are no harsh chemicals here!' They give us their trust because they see this is a specific hygienic treatment that won't jeopardise the fabrics of their favourite garments. They can be totally carefree" concludes Mrs. Katarina, who has a message for all beginners in this business:
"Sometimes you're going to need one stair, sometimes two and sometimes – five! But when you have a goal it all comes together in the end. With persistence, a lot of work and some luck – you can achieve anything."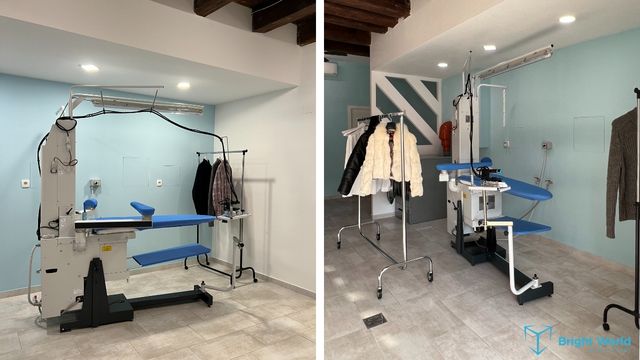 By choosing the lagoon® Advanced Care products you can start a new chapter of unique benefits and advantages for your business. Get inspired by Mrs. Katarina's and Mr. Ivica's amazing story and take the first stair to success by contacting us!