Meet our team – beyond the borders of Croatia! Andrija is our dear colleague from a Serbian partner company. Recently, we supported him at the 18th HoReCa Fair in Belgrade. On that occasion, we talked about his experience in the laundry business. Among his friends and colleagues, Andrija is, except for his outstanding business sense, known for his humour and communicativeness. He successfully brings this positive energy to every new working day.
"Considering the fact I work in many business segments my working day is very dynamic and active. But that is exactly what I like the most about my job! I love challenges and resolving different problems. I am not the type to sit down, I love working with my hands" he says.
Before entering the laundry business, Andrija gained a rich working experience in many different industries. How versatile he is proving the fact he is educated in organic chemistry, studied at Faculty of Agriculture in Belgrade, was in trade, hospitality, etc. He especially accentuates technical service and assembly, which were the most valuable school for him and to which he attributes his success in this business. "Through technical service and assembly, I've learned everything about possible situations that the clients face. I've also learned all the technical details about products. That's exactly why I can recommend LG professional laundry equipment with a clear conscience – I know they are state-of-the-art! I could never sell something I don't believe in myself" he's determined.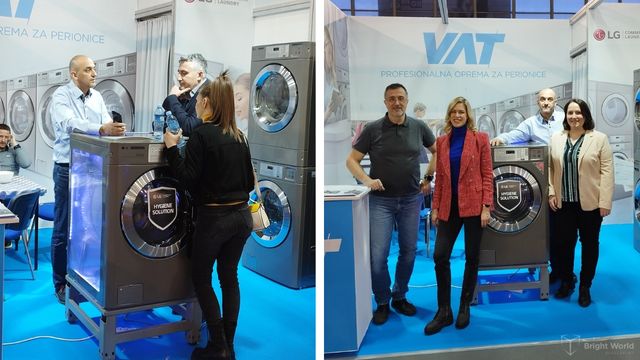 Andrija truly believes and lives his work and this is what his clients, who come to him with the idea of starting a laundry, recognize. "Most often, my clients are complete beginners in this business and they need quality support. I am here to give them advice and guidelines, to show from my long experience which are the best practices and what will, in the end, help them succeed. The most common challenge they face is finding an adequate space for their laundry. Spaces are often too large here and it requires the buy-in of the electricity power. But, through cooperation, we address all challenges!"
"A big advantage of collaborating with us is that we do import, sales and technical service, so – one company does it all. We are with our clients from day one" he says. He sees aftersales service as crucial for clients' trust and one of the main factors for which his existing clients recommend him to the new ones. "Word-of-mouth was essential in my case and I am very proud of that" he adds.
In conclusion, Andrija has a message for all the beginners in the laundry business – "Just - do it! Make a decision, arm yourself with some patience and success will surely follow!"