Popular tourist destinations and laundries go hand in hand. This is exactly what Mrs. Valentina Nižić had in mind when she was starting today successful OPL laundry in the city of Zadar with the help of our team. But, how it all started?
"I was working in textile industry, but I wasn't happy. I wanted to be my own boss. Considering the city of Zadar is a tourist destination, I knew this is the direction I want to take. But, I wanted a calmer job, where I wouldn't have to constantly interact with people. Me and my husband were brainstorming and it occurred to us – why don't we try with an OPL laundry?" recalls Mrs. Valentina.
Immediate "click"
"But we didn't know anyone who would instruct us with this business. So, my main ally here was - the internet! I was in contact with another company, told them briefly what I wanted, but all I got were scanty information, based solely on prices. At the same time, I contacted Bright World and we simply 'clicked'. Your webpage was very informative for me and I could find many answers to my questions. For me, Bright World was - everything in one place. The human approach was crucial for my decision. As someone who was never in touch with laundry equipment, I was happy I could contact your team for every question I had, even if I thought it was totally banal" says Mrs. Valentina.
After our first contact, everything started rolling pretty fast. "Soon we arranged a meeting to get to know each other in person and to work out all the details and possibilities."
The challenge Mrs. Valentina faced in this phase was finding an adequate, financially affordable space for her laundry. She already made a deal about one space and was planning to send our team space and installation plan, but the owner suddenly withdrew from the agreement. But, she didn't let this discourage her. She remembered there was a space in the neighbour building that previously hosted a laundry and asked around for the owner's number. They made a deal really fast. "You know what they say – when one door closes a window opens. It turned out for the best" she says.
A winning equipment combination
Since her primary source of funding was her own capital, Mrs. Valentina was limited by the budget in the beginning. But soon she got great news – her self-employment stimulus was approved! So, according to our advice, she chose: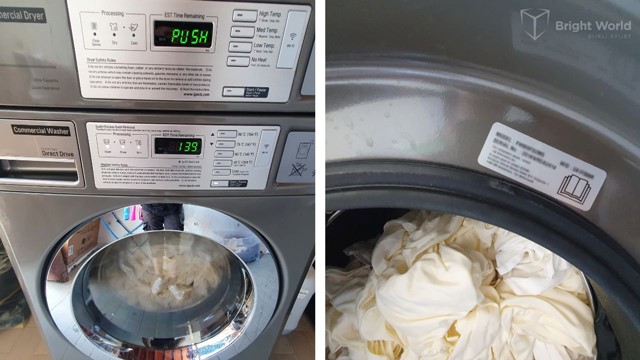 "The products were in stock in a warehouse and everything went smoothly from here on. "Your technician paid me a visit and gave his recommendations, which I took very seriously. That's why, when the products arrived, everything was done in only 3 days and we were ready to start. With the beginning of May, we opened the laundry for clients" she recalls.
"When the first client came in and asked if we could wash laundry for their tourist apartment – that was just 'wow' for us. During the first month, we washed a blanket here and there, but as time went on, people started asking around about us. Somewhere around the middle of June, things started heating up. I did my part in promotion through flyers and visit cards. I also did a tour of smaller hotels, villas and restaurants. We got some clients here and we kept them thanks to our service quality. I always choose quality before quantity and, thanks to word of mouth, our circle of loyal clients becomes larger day by day."
With ozone to perfect scent and softness
And when it comes to the BW ozone generator, Mrs. Valentina is just thrilled. "Right at the beginning I noticed a huge difference in washing my husband's synthetic work shirts. Previously, I had so much trouble trying to get rid of the unpleasant smell, but after using the ozone, it was completely gone!
"I always like to emphasize we are using the ozone. Clients already knew how it works in general, but I wanted to educate them even more through our promotional materials. Their reactions were very positive."
"Scent and softness have never been better. And this was noticed by the guests in our client's accommodation. When the client comes in and tells me they are getting positive recensions on booking.com, saying that the laundry is perfectly clean, white and soft, it is the best compliment! Everyone in this business has issues with sunscreen stains, but we have found the perfect formula for getting rid of them" she says with pride.
The importance of aftersales support
Mrs. Valentina points out how important the aftersales service is for her. "When you're in the middle of the season, there is no time for waiting to fix an issue and this is where the service availability becomes crucial. Whenever I had a question or situation, whenever I pushed the wrong button – I called your team and asked 'What now?' I had zero experience with laundry equipment and that's why this support meant a lot to me. For example, I had a situation with a flatwork ironer – the laundry was sticking to it. Your technician came and we solved this that same day."
Also, Mrs. Valentina was becoming more skilled in handling the equipment day by day. The simplicity of their use contributed a lot. "In the beginning, it seemed to me that the ironer is too fast. Now that I've caught the pace, I don't even notice the speed" she laughs.
"You can buy the equipment anywhere – but, what after that? That's why I always say - if anyone came up to me and offered me I don't know what - I would thank them and say I already have my dream team and we are going strong!"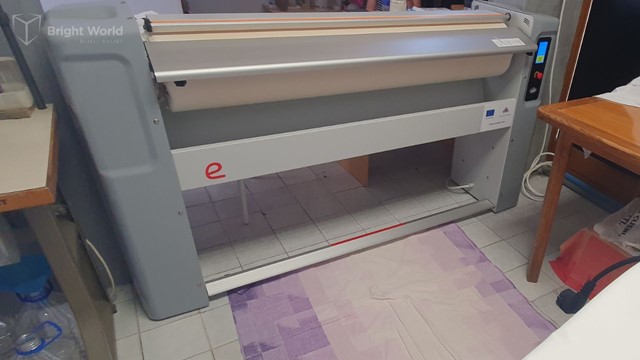 Numbers don't lie
One more thing that confirms how great Mrs. Valentina manages her business venture is – the numbers.
"People were telling us that the first year means minus, the second means zero and eventually the third some profit. But, we have no minus! You can say that the equipment paid off within the first year. Plus, this season we expect even higher intensity!"
As a conclusion of this success story, Mrs. Valentina points out: "My advice to beginners in this business would definitely be to hire a team of experts, that will help them in the process from idea to realization, but also later, through the aftersales support. For me, the most important are good communication and trust. And that's exactly what I attribute the success of my business to."
Mrs. Valentina has successfully made her dream come true. Now it's your turn! We are here to help you find the best solution for your business so – contact us!