A well-known Prague student dormitory Apartment Students had struggled with excessive amounts of laundry. Precisely, they had household washing machines that stopped working well because of the large amounts of laundry. That was causing difficulties for both students and the student dorm management. They decided to replace household washing machines with LG devices - three professional LG Giant C Max washing machines with a capacity of 10 kg with a token. To make students' lives effortless, the administration also enabled contactless payment for services via cards or applications on a smartphone.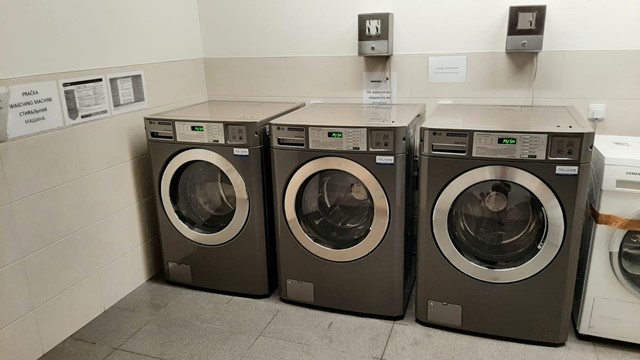 On the other hand - the Czech hostel for foreign and domestic workers in Brno-Chrlice began to offer a self-service laundry service. They installed two sets of professional washing machines and dryers LG Giant C Max with a capacity of 10 kg of laundry with a coin paying system in the hostel for workers. To make comfort and access priorities, each set is available on one floor of the hostel.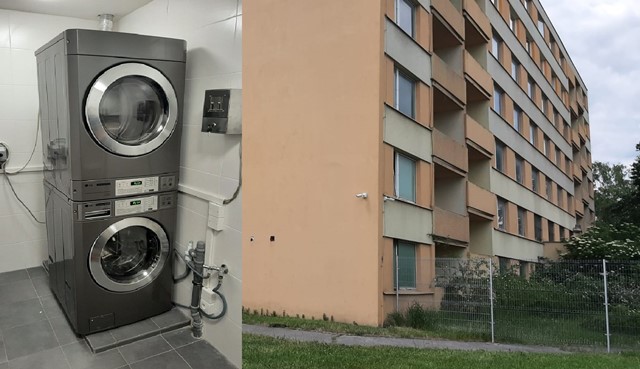 Why are LG washing machines the best choice for student dormitories and hostels?
Professional LG washing machines and dryers are ideal for student dormitories and hostels because they can be fully adapted to users' needs. They are as easy to use as much as household washing machines, but surpass them in performance.
Since the drum is larger than the one found in household machine, it is possible to wash 1 to 13 kg of clothes within one laundry load. In addition, the washing machine will adjust the amount of water itself and determine and shorten the washing cycle for smaller amounts of laundry.
Speed is another plus for professional devices: the longest washing program is 2 to 3 times faster than in household machine. That means that 10 kg of white cotton clothes can be washed in 1.5 hours and dried within 1 hour. Let's do the math: this professional washing machine can work up to 8 hours every day - this means it can wash 60 kg of laundry daily. Money and time saving solutions are always pros of professional appliances.
Given that these devices are heavily used, hygiene is a top priority. Thanks to their modern hygienic solutions, you can feel safe that both the laundry and the washing machine are as clean as they can be.
Okay, but what are the benefits for the owner?
The advantage of professional washing machines is that they are great at adapting to spaces that were not originally intended for laundry. That can be an unused room, a storage room, or a corner of an existing room. Plus, the dryer can be placed on top of the washer, which saves more space. They are connected to single-phase current, so no special conditions are required, as it is the case with industrial devices. All of this makes them easy to install.
Maintenance is simple and does not take much time. In addition - large quantities of laundry such as those that are washed in dormitories and hostels on a daily basis often mean - higher consumption. The LG Giant C washing machine is penny-wise: it has programs that save a significant amount of detergent and up to 75 percent energy.
And why would you put your trust in our team from Bright World?
For the same reasons as the other European distributors: you get to offer your clients best buy recognizable LG products. You are considering purchasing new and easy to sell appliances? Contact us to become a partner to our LG professional family.