Profitable business model
This mini conference helps potential entrepreneurs to make their dreams come true. So far, 8 Jumpstarts were held and the result is 60 newly opened self-service laundries all over Croatia. "The biggest advantage of laundries is their profitability. You may return your initial investment of 20,000 Euros already at the end of the first year" says Mario Martinek, CEO of the Bright World Ltd, which organized the conference.
This interesting business model does not need a huge initial investment and Croatia's tourism potential makes is even more interesting. The users of the laundries are tourists but also owners of apartments, hostels, marinas, small hotels, and restaurants. Moreover, the market is not saturated because laundries appeared in Croatia only recently. And least but not last - Bright World Ltd is helping investors on the road. They assist in finding the best laundry location and the most appropriate machines; they help with installation and maintenance, staff training and marketing activities.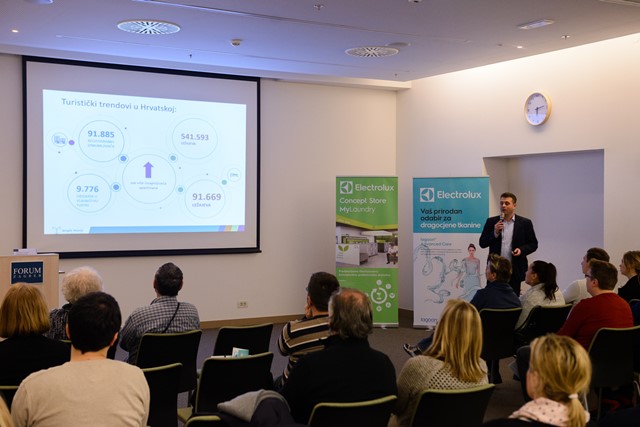 Also on this conference recognized experts from the textile industry presented their knowledge and experience of solutions and easy-to-use tips for even more successful business. Dr. sc. Tanja Pušić is a full time professor at the Faculty of Textile Technology and a specialist in textile care. Her academic experience is applicable to every job that involves working with textiles from the idea itself to the use and maintenance of textiles.
The primary goal of every laundry with quality textile maintenance is to attract new and retain existing customers. Whatever you need to know about clothes in laundry business and how to properly maintain textiles explained in her professional lecture dr. sc. Edita Vujasinović, also a full time professor at the Faculty of Textile Technology.
Lecturing professors and experts in textiles is a unique opportunity to turn this valuable information and knowledge into the benefits of one's own business. Knowledge is necessary for any growth and development, so use this unique opportunity and change your attitudes, doubts and ideas with experts and, with professional advice, continue your path to success.
My Laundry concept powered by Bright World Ltd
This year's Jumpstart also featured a new premium laundry concept coming to the Croatian market. "My Laundry" concept store was presented by Holger Dannenberg from Electrolux. There are only two such laundries in Europe. Therefore, there is a huge opportunity for the first owner of the best environment-friendly laundry in Croatia. Here are some of the concept's advantages:
• No franchise fee
• Support from Electrolux
• Electrolux machines maximize your profits by saving energy, water and detergent
• Drum can be sanitized prior to each wash - extra income or can customer loyalty if provided free of charge
• Technologically advanced machines – text message notifications when the laundry is done or when the moneyboxes are full
Turnkey system
"We believe that our help on the road makes a difference. Our goal is to assist our clients and laundry owners throughout Croatia have recognized it. With the positive results they serve as an example and encouragement to others who want to enter the laundry business. We consider this our greatest success" concluded Martinek.