Just 50 kilometers from Zagreb, a little paradise is located in the heart of Moslavina. Winery and restaurant August in Popovača will win you over with its gastronomic offer, wonderful accommodation, and impeccable cleanliness. We have been involved in this successful business story from the very beginning. Our cooperation was quite natural because we share the same values - respect for clients and the community, ethics, and responsibility.
The story of August restaurant began in 2016. The Moslavina čardak (old wooden house) in which the restaurant is located is an original example of autochthonous Moslavina architecture. The house is more than 150 years old and the owners were waiting for the relocation project before opening. This means that it was dismantled from roof to foundation and then rebuilt. This process lasted five years.
The house is one of the oldest čardak in Moslavina, it is estimated to be 150 years old, possibly more. When it was moved and finally placed in the wine cellar, everything inside had to be equipped with the best possible equipment. And that's when Bijeli Svijet entered the story, our reliable business partner, owner Marko Sušac tells us.
When we became part of this wonderful story in Moslavina, the goal was only one - to make this place even more beautiful and pleasant for owners, guests, and clients. We achieved this with a little help from our professional LG devices, which guarantee perfectly clean results when it comes to processing bed linen and restaurant textiles. The in-house laundry was a real hit because cleanliness is one of the main assets of the August restaurant, which can be seen at every step. If they washed their laundry in an external laundromat, they wouldn't have control over their laundry cleaning standards. In hotels and restaurants, this is one of the main details for clients, because based on clean bed linen, tablecloths, and napkins on the table, they create an image of the entire establishment.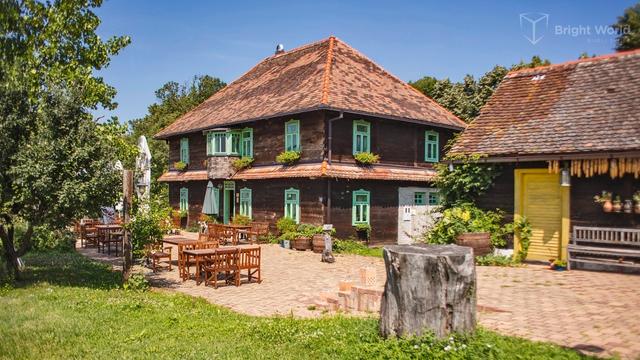 We are extremely proud of our cooperation with the August restaurant. I'm always surprised when I come here and see the perfect whiteness of laundry and textiles. I am glad that there are places that devote this much attention and time to their clients and guests, says our owner Mario Martinek.
The married couple Sušac offers their guests a true little gastronomic adventure, from local autochthonous dishes and wines that conquer even the most demanding palates. The rustically decorated rooms for rest also offer a wonderful view of Moslavačka Gora. They provide their guests with absolutely everything, and we helped in such a way that we had more time for our business and ensured the highest standards of cleanliness.
In fact, it often happens that people notice how we pay attention to every detail, especially to impeccable cleanliness and hygiene. It was important to us at the start because we knew that it was one of the conditions we had to fully satisfy. We are especially glad that we can always get the right service from Bijeli Svijet, which is always on time and reliable, says Sušac.
We are proud because we stand by our partners from their first steps in a good business story and we hope that they will soon have more promising ideas that we will support.