The change in the speed of our lives has made laundrettes a more desirable and accessible option. Having less time for housework, more and more of us are dropping off our dirty laundry for laundrettes to wash and dry. They are also a cool place to spend our leisure time. But now, with the spreading of the COVID-19, convenience is less important than hygiene.
You can still have it both cool and clean
Still, both owning a cool branded self-service laundrette like Laundry Lounge and keeping it safe when it comes to hygiene is certainly feasible. Since it comes with marketing material guidelines, you won't have to bother with design, creating marketing messages, and so on. The only thing to do, apart from sharing the already existing material, is inviting people to the opening of your laundrette. The spare time that owning a self- service laundrette offers can allow you to fully concentrate on hygiene and how to keep your Laundry Lounge laundrette safe for you and your customers. But, when did we from Bright world get into this and why?
A little bit of history of Laundry Lounge laundrette and us
The Laundry Lounge concept was born in the LG corporation. The first one was opened in New York in 2012, followed by European examples 3 years later. We at Bright world opened one in Zagreb, the capital of Croatia, and became a master franchisee, responsible for franchise network development in the Adriatic region. When the Laundry Lounge laundrette opened in Zadar, a beautiful city in the Croatian Adriatic coast, Bright world was appointed master franchisee for all Central and Eastern European countries. – Such a decision was made after we successfully started operations in Croatia. But, also, being very proactive, we've organized several educational seminars for people interested in starting this type of entrepreneurship, so, with this kind of knowledge and experience, we were ready to take over the development of franchise network throughout the CEE region, since these are very similar countries – explains Mario Martinek, owner of the "Bright World".
The opening of Laundry Lounge laundrettes across Europe then followed – from the two in Podgorica, the capital of Montenegro, to Belgrade, the capital of Serbia. Bright world has also helped open Laundry lounge laundrettes in Crikvenica and Kastav, and we are about to see Laundry lounge laundrettes opened in Ljubljana, Prague and Skopje.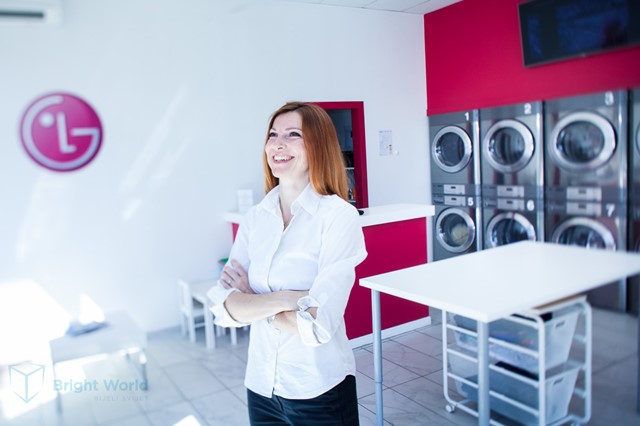 LG Laundry Lounge
The benefits of Laundry Lounge – for you and your customers
First of all, self-service laundrettes like the Laundry Lounge give you a lot of time. Second of all, when it comes to this franchise, you wouldn't have to pay any entry fee or royalty, since those are already included in the cost of purchasing the machines. Also, since we are on the subject of cost, workers won't cost you any money, because there is hardly any need for them – you need perhaps one to take care of the hygiene and maintenance. The finances are also a big advantage because you would only work with cash.
Last but not least, and this is the cool part from the beginning of this story, LG aimed to add a very "modern touch", as Martinek points out, to the whole user experience. it created its laundries not just as a convenient but very cozy place – a place of socializing, with internet, TV, coffee maker, children's corner – a real home atmosphere. – In that case, going to the laundries is not considered a waste of time, but an opportunity to spend your leisure time enjoying it. That will be another reason for people to come and return. And another benefit for our future franchisees – says Martinek.
The important steps in hygiene to take
All of this sounds very good, right? The times in which the pandemic more or less dictates our lives is not as good, but we can make things better. When it comes to your Laundry Lounge laundrette, there are certain rules any laundrette owner needs to follow to preserve health.
Regularly disinfect the surfaces you touch, and encourage your customers to keep a distance from each other. Also, run hygienic programs like Wave force and Auto tub clean regularly, because they keep the LG professional washers hygienically clean. Advise your customers to keep doing laundry. People tend not to go to laundrettes amid pandemic, but what they should do is exactly the opposite! Frequently washing and drying laundry will help keep viruses and bacteria away. Suggest to them that the hotter the temperature, the better the outcome when it comes to hygiene. And speaking of hot, don't forget the dryer! Because of its high temperatures, it is a great ally in the fight against viruses. And perhaps the most important thing of all, don't panic. Just keep your Laundry Lounge laundrette safe and clean.
If you are interested in opening one for yourself, contact us!