Five years ago, an incredibly special story started in Podgorica. After New York and Zagreb, the third LG Laundry Lounge in the world has opened there. Jelena Jocović and her husband started a family business that has been successfully growing for years and continues to have excellent results, and we've been following their business path from the very beginning.
How did it all actually start? Jelena and her husband observed and analyzed the Montenegrin market and quickly realized that a service business like the Laundry Lounge is urgently needed in their city.
'It turned out that this kind of business is really lacking in our area. We decided to consult with the Bright World team which really has brilliant standardization and a high level of efficiency. With all that, they follow the trends in global markets so we can get all the advice and best practices that we need to succeed in our business. That is why we chose the cooperation with the Bright World, which continues successfully today. '- Jelena tells us.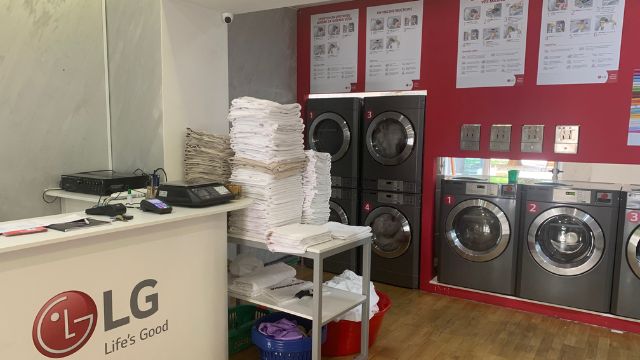 Laundry Lounge Podgorica - interior
Enthusiasm, a good business plan, quality devices, and a phenomenal team of employees have become their recipe for success. The concept of a business such as Laundry Lounge didn't exist in Montenegro until then, but people quickly recognized the high-quality service offered to them in the neighborhood. The LG Laundry Lounge in Podgorica has become a comfortable place for everyone - from locals to wash and dry their clothes, to 'big players' such as hotels, restaurants, nursing homes, and fitness centers.
'We primarily offer extremely high-quality washing due to high-quality LG equipment, but we are also constantly working on our employees, which is especially important to us. We invest in our team and their training. I always stick to the fact that there are no bad teams but bad leaders. '- says Jelena, who can really be called a good leader with a fantastic sense of business.
Laundry Lounge Podgorica
The successful concept quickly gave results, and an additional branch office was opened. After only two years of business, Podgorica got a second laundrette. A pandemic also occurred during that period but giving up was not an option.
'There were some minor hurdles, but I always look at them as lessons for the future and that it's all just the normal path of a business. The coronavirus period lasted, but we survived, stayed open and today we are where we are. We are marching on.'
Laundry Lounge Podgorica - branch
Jelena really has big plans and doesn't intend to stop. The plan is to expand and open new branches in Montenegro. They are ready for new challenges and believe that their work and perseverance will once again give the desired results. Conclusion? It all depends on how persistent, enthusiastic, and positive you are to push your business idea forward.
'After 5 years of work I can say that I have positive feedback and wonderful cooperation with Bright World, we really had all the possible support from them. I recommend LG professional equipment to everyone because of their top quality and the job they do perfectly. I followed all the device maintenance tips and instructions I received from the Bright World team and never had a problem with the devices. Maybe that's why we stayed in the market this long. '
Jelena has gold-worthy advice for anyone who wants to try their hand at this business.
'You must be clear about what you really want. Focus on yourself, your team, and a good collaborator like Bright World. Stay positive and enthusiastic, and don't be afraid of challenges and obstacles. This is a business that doesn't give grand results overnight, but it does give great long-term results. Invest in yourself and your employees, it is crucial that people feel happy and satisfied.'
Our dear partners from Montenegro are boldly moving forward, and we together with them. We look forward to their new successes, which we believe are just around the corner.